Professional Industrial Electrician
Specializing in the Food Preparation
and Water Treatment Industries.
Why Choose LeBer Technical as Your Industrial Electrician?
LeBer Technical and Field Service Support Ltd.is a company based in Uxbridge, Ontario.  Owner/operator Mike LeBer is a licensed Master Electrician, certified by the ECRA (# 7007371). 
LeBer Technical and Field Service Support Ltd. is registered and in good standing with the Electrical Safety Authority. You can find LeBer Technical and Field Service Support Limited on the licensed electrical contractor list at PlugInSafely.ca.
With over 35 years' experience in the electrical industry, I will ensure your project is completed safely and professionally. I pride myself on offering competitive rates and flexible time.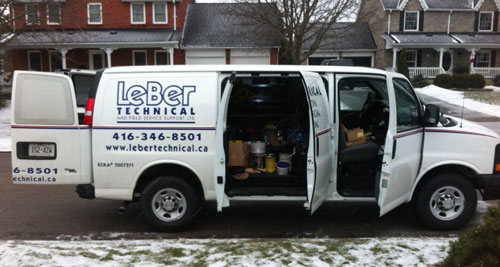 Contact master electrician, Mike LeBer to discuss your industrial electrical project in Oshawa, Whitby and Ajax.  
Professional Industrial Electrical Services
Installation and Commissioning
Your maintenance department is usually intimately involved with the equipment. They must maintain it and they must repair and sometimes they may have to modify it for a change in purpose or to update it for newer technology. Most maintenance departments in today's economy are tasked to the max and they just can't afford to take on the full task of planning, and execution of these "extras". Working with outside contractors during installation, interfacing with programmers and consultants can be onerous and time consuming. I have worked for 18 years doing installation work, performing integration computer programming and commissioning; i.e.; working out the bugs before maintenance and operations people get it.! With 12 years of project management experience I can assist your maintenance department with technical projects, large and small. From planning, budgeting, supervision, installation, and training I can assist you in bringing a project in on time and on budget.
Electrician for UV Water Treatment Installations and Maintenance
I spent 18 years working with Calgon Carbon®* (nee Solarchem) UV water treatment equipment in Field Service management and field engineering. Specifically I have worked with RAYOX® UV process, industrial and ground water remediation, Sentinel® UV disinfection for drinking water, Aurora® UV disinfection for municipal waste water, and C3 UV disinfection units for municipal waste water disinfection. As a member of the original team involved in the design, installation and upkeep of this equipment I have the background to repair, maintain and upgrade this equipment.
Training
With today's demands on faster, cheaper, better, many maintenance departments staff have not been able to keep up with technology, PLC's, new tools, new machinery, etc. When they acquire new equipment they do not have the time to formulate training plans and execute them. With 30 years of training in an industrial and maintenance environment, I can offer your maintenance personnel this service.
Service Support
Preventive maintenance is always an area where your maintenance department never has enough time to put resources. Unfortunately it always comes back to bite them and then there is always time to fix it often times with large losses in money, productivity and equipment integrity. Having spent 30+ years in maintenance and field service I can assist in planning a preventive maintenance program or I can perform preprogrammed onsite preventive maintenance routines in critical areas. We also offer emergency service on site.
Technical
As a Professional Engineer with 34 years' experience in civil, mechanical, electrical, processing and industrial equipment in the food, manufacturing and water treatment area I can advise them on ways to optimize current systems and can assist them with this. I have a certificate of authorization to offer engineering service and I am a licensed electrical contractor for those customers who require it.
PLC and Control Screens
Throughout my career I have spent considerable time working with various PLC products; Modicon, Allen Bradley, Koyo (Automation Direct), Siemens. I installed and programmed complete systems. I have retrofitted complete systems and performed upgrades for plant expansions and technology changes. I have worked with various control screen products from Allen Bradley, GE, UNIOP, UTICOR, and others. Adding screens to older systems that were previously inaccessible to operators or management. I have put new life into these systems making them more user and maintenance friendly.
Documentation Support
With every project no matter how small or larger there is the necessary paper work whether for government permits, installation sketches, drawings, material lists, service reports or invoicing. We strive to provide you with this in a user friendly and timely manner.
Our Service Area
Mike LeBer is a master electrician who provides home electrical services and commercial electrical services in the following areas:
Durham Region including: Ajax, Whitby, Oshawa, Port Perry, Uxbridge, Cannington, Sunderland, and Beaverton
York Region including: Newmarket, Aurora, Bradford, Pefferlaw, Keswick, Sutton.
Industrial electrical services can be provided across Ontario.
How to Make an Appointment
Call my office at 519-372-9099 to discuss your project or to schedule a service call.